R
| | |
| --- | --- |
| Where forest & forestry resources come together for all users! | <![if !vml]> <![endif]> |
Sponsored by the Michigan Forest Association and Michigan State University Extension
Forest Type Bulletins
These bulletins are thumbnail descriptions of Michigan forest type groups and broad management applications. There are over 50 specific Michigan forest types recognized by the US Forest Service. Many of them have similar characteristics. These bulletins "lump" similar forest types into ten groups, each with a bulletin. There are 23 US Forest Service forest types that occupy less than one percent of Michgian's forest and are not addressed in this bulletin series. In addition to the ten specific forest type group bulletins, there are eight bulletins that describe other potential topics of interest to private, non-industrial forest owners.
FOREST OWNERSHIP

2 pages. 487 kb. Private non-industrial, corporate, state, and federal blocks.

TREE PLANTING

2 pages. 253 kb. Site selection, site preparation, planting, and vegetation control.

MESIC CONIFERS

2 pages. 615 kb. Mostly white pine and hemlock, mixed with hardwoods.
---
TRAILER- This website was created by a consortium of forestry groups to help streamline information about forestry and coordinate forestry activities designed to benefit the family forest owner and various publics that make up our Michigan citizenry. This website is maintained by Bill Cook, Michigan State Extension Forester/Biologist. Direct comments to cookwi@msu.edu or 906-786-1575.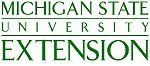 Michigan State University is an affirmative action equal opportunity institution. The U.S. Department of Agriculture prohibits discrimination on the basis of race, color, national origin, gender, religion, age, disability, political beliefs, sexual orientation, and marital status or family status. (Not all prohibited bases apply to all programs.)