R
| | |
| --- | --- |
| Where forest & forestry resources come together for all users! | <![if !vml]> <![endif]> |
Sponsored by Cookhouse Productions, Michigan Forest Association, Michigan State University

Extension, and Michigan Technological University
Forest Bounty
Article #329 December 2021
By Bill Cook
Timber harvests are prescribed to obtain wood products. Equally important, or more important in some cases, is encouraging regeneration and improving stand conditions.
Timber harvest sometimes conjures-up perceptions of lost forests, damaged environments, and greed. While each of these things have occurred, and still do in some cases, timber harvesting is actually one of the most environmentally-friendly ways to extract raw materials, especially when done using effective planning and "best management practices" for soil and water protection.
Raw materials are what human society depends upon. Wood is the raw material that not only has the least amount of negative environmental impact, but is often used to improve and direct future forest resources in a positive manner, to re-build forests into a healthier condition. Healthy forests provide a myriad of goods and services, including wood. Combined environmental and economic benefits of timber harvest are not immediately intuitive to some folks.
How, you might ask, could this be? An excellent question with multiple-faceted answers.
First of all, our forests are not pristine to begin with, despite what might look like "wilderness" to some, and despite the tourist marketing. They've been ferociously altered by historic logging and subsequent wildfires. Fortunately, the Lake States temperate forests are highly resilient. Many of our forest types are "designed" for catastrophic disturbance, although not quite at the scale of the Paul Bunyan era.
These "secondary" forests that have grown over the past century are not the same as the pre-EuroAmerican forests. We'll not see them again. Additionally, forests are currently threatened by climate change, exotic species, and record-high deer overbrowsing.
Some environmental ethicists insist that the responsible course of action is to actively manage these altered and threatened forests to the best of our collective ability. Aldo Leopold built to this idea into his "land ethic" essay. This is where forest management steps onto center stage. And, timber harvest is a key tool in the forest management arsenal.
There seem to be two major barriers to the social acceptance of the many ecological benefits of timber harvesting.
Firstly, visual quality changes hobble public perception of timber harvesting, especially clearcutting. Despite all the science and experience showing otherwise, any forest that has undergone significant visual change is frequently labelled as "damaged" or "degraded". Visual quality is an especially poor measure of ecological integrity.
Secondly, wildlife populations are assumed to be harmed, and wildlife are near and dear to the hearts of many. However, a timber harvest creates wildlife winners and losers, just the same as not harvesting. These futures are our choice, with benign neglect as one choice.
It's sometimes a bit of a stretch for some people to appreciate wildlife population dynamics on the landscape level and over the course of time. Given the overall aging of Lake States forests, and decline of young forest wildlife populations, timber harvest is a marvelous boon to many species of wildlife.
Regardless of the massive volume of knowledge about timber harvesting, scheduling a harvest on one's own woodland can be a bit scary. The same is often true with appreciating a harvest that has occurred in a favorite place on either public or private forestland.
Working with a professional forester goes a long way to help ensure forest practices are implemented "for the good" and done in a sustainable and thoughtful manner. Foresters will help explain the "whats", "hows", and "whens" of building a desired forest future through management. And, one should not be afraid of generating income from a forest. It is only through this financial and economic system that management can happen.
Most forestowners are not particularly interested in trees as timber (cords and boards) until sums like $50,000 or more are batted around, or college tuition money is needed, or a woodland is about to be sold. Too often, forestowners jump at the first offer. A management plan, that charts the trajectory of a forestowner's wishes, should include rough monetary estimates of timber value and what ought to be harvested, and what should not. It should also be made clear that these "stumpage" values can wildly fluctuate in as little as a year, or less.
Finding a forester is not as daunting as some might think. At least four organizations can help forestowners along this pathway; Conservation Districts, the Association of Consulting Foresters, Tree Farm Program, and the Michigan Forest Association. There are others, too, and similar groups in most states. And then, the Internet also has a wide range of resources, some of them good, some of them, well, less than good.
However, for most family forestowners, the word-of-mouth will often generate a good contact or two.
- 30 -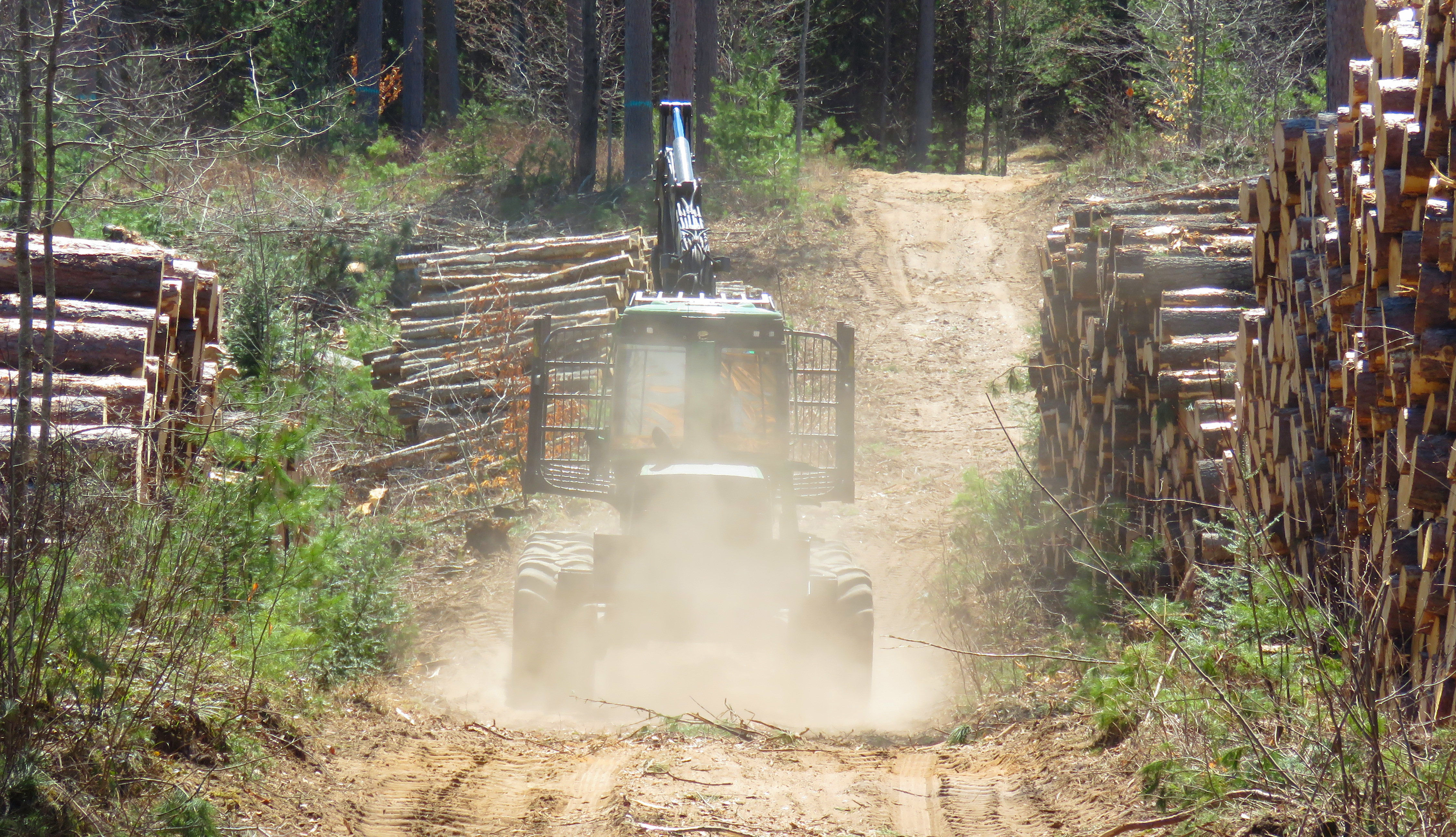 Wood products provide services to both people and the forest.
---
TRAILER- This website was created by a consortium of forestry groups to help streamline information about forestry and coordinate forestry activities designed to benefit the family forest owner and various publics that make up our Michigan citizenry. This website is maintained by Bill Cook, Retired Michigan State Extension Forester/Biologist. Direct comments to cookwi@msu.edu or 906-786-1575.