R
| | |
| --- | --- |
| Where forest & forestry resources come together for all users! | <![if !vml]> <![endif]> |
Sponsored by the Michigan Forest Association and Michigan State University
Extension
Tattle Tales
Article #269 March 2018
By Bill Cook

Reporting exotic species observations is a good practice, even though many of us are reluctant to do so. Increased knowledge, for the both the reporter and the recipient, may be the greatest benefit.
The impacts of invasive exotic pests are increasing. These species include plants, insects, pathogens, and other life forms. They infect terrestrial and aquatic habitats, and everything in between. Some can be serious game-changers in the management and integrity of our natural systems. All of them spread with the help of humans.
Is that important? If you believe it is, then please consider learning more about these invaders and report what you see.
The professional community that spends much of their time working on exotic pests is not usually the group that makes new discoveries. Most new observations are made by someone who sees something a bit unusual and is curious enough to find out what it is.
Nearly every professional associated with pest management would rather field a contact that ends with; "Oh, that's one of our native species and it's perfectly normal." It's a sigh of relief because we all know, that one day, the nightmare call will come.
What can you do? Learn and watch. Then, maybe, modify your behavior.
Arguably, the best on-line resource is the Midwest Invasive Species Information Network (MISIN). The Network has good thumbnail sketches of hundreds of species, as well as a way to report observations. To report, you'll need to create an account with a username and a password. It takes a little patience to learn how to navigate the MISIN site, but it's not too bad for those at least a bit familiar with using the Internet.
The MISIN website also provides account access to several citizen science programs, including the Sentinel Tree Project where you register, monitor, and report on a tree of your choice - or several trees.
Both the Michigan DNR and Department of Agriculture and Rural Development (DARD) have a "watch list" that has information about some of the most sought-after pests (that we don't want to see). The DNR has a nicely-down annual Forest Health Highlights, but their staffing is down and the 2017 report might be on-hold. The USDA has a couple of websites, the National Invasive Species Information Center and the Plants Database. There are also a group of Cooperative Invasive Species Management Areas (CISMAs) that cover nearly all of Michigan. County Conservation Districts are often allied with the CISMAs.
Regarding our forest resource, the current headliners are; Heterobasidion root disease, Asian long-horned beetle, beech bark disease, emerald ash borer, hemlock woolly adelgid, balsam woolly adelgid, oak wilt, 1000 cankers disease of walnut, and the pine shoot beetle. Some of these species are already well-established in Michigan and we need to manage forests with them in mind. Others are either not here yet, or are in the early stages of establishment.
Eradication success stories are possible with early detections. That's why it's important to have as many informed "eyes in the landscape" as possible. The Lake States forests were forever changed by the historic logging and wildfire era, and the subsequent human development pressures. However, these may look like minor events compared to what exotic invaders are capable of inflicting.
If you care enough, then listen, learn, report, and act. It's both interesting and rewarding.
- 30 –
---
TRAILER- This website was created by a consortium of forestry groups to help streamline information about forestry and coordinate forestry activities designed to benefit the family forest owner and various publics that make up our Michigan citizenry. This website is maintained by Bill Cook, Michigan State Extension Forester/Biologist. Direct comments to cookwi@msu.edu or 906-786-1575.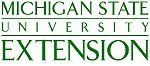 Michigan State University is an affirmative action equal opportunity institution. The U.S. Department of Agriculture prohibits discrimination on the basis of race, color, national origin, gender, religion, age, disability, political beliefs, sexual orientation, and marital status or family status. (Not all prohibited bases apply to all programs.)